Contact Us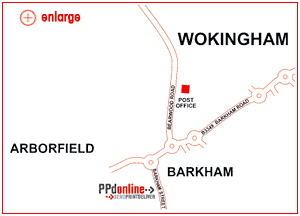 Contact us by email at sales@ppdonline.co.uk. We will respond to your request during our normal hours of work which are Monday to Friday 8.30am to 5.30pm. You can contact us anytime during these hours on 0118 976 1088.
If you would like to visit us we are situated in Barkham, near Wokingham approx 5 miles from Reading, Berkshire. Our location is a 10 minute journey from Wokingham and the M4. We operate between 8.30am and 5.30pm on an appointment only basis.
Our postal address is:
PPdonline
Unit 7 Barkham Grange
Barkham Street
Wokingham
Berkshire
RG40 4PJ
For directions from the M4 and Wokingham please download the pdf map below.

If you do not have adobe reader, please use the link to download it.
Downloadable directions / map

Directions.pdf (92kb)

Map.pdf (60kb)